Dr Rodger Spiller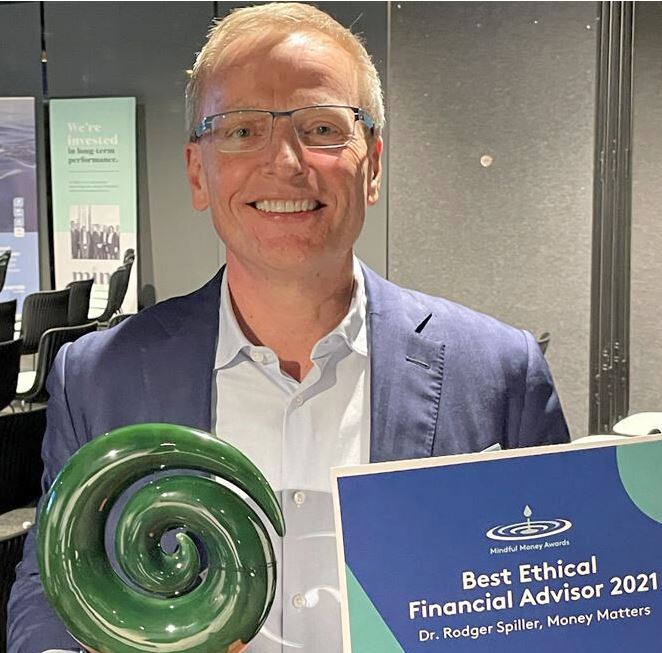 Dr Rodger Spiller is Chellie's husband and they work on a number of projects together. Like Chellie he is deeply interested and engaged in leadership development training and coaching, including qualifying in the USA as an Authorised Provider of The Leadership Challenge® and as a Certified Immunity-to-Change™ Coach.
In 2021 Rodger was awarded Best Ethical Financial Advisor atthe Mindful Money Awards.
At a young age, Rodger realised that money and business have a major influence in the way the world works – for better or often worse. In the 1970s, inspired by New Zealand's earliest ethical investors, Rodger chose to focus his career on making a difference, by encouraging more ethical investment and ethical business. He went on to become a pioneering leader in both fields.
Rodger has long been at the forefront of New Zealand's ethical investment industry. His pioneering work includes:
Bringing the Ethical Investment Association Australasia (now the Responsible Investment Association Australasia) to New Zealand and being a Director for over 10 years
Being New Zealand's first financial advisor to receive the Ethical Investment Certification symbol.
Being a Founding Member and Executive Director of NZ Businesses for Social Responsibility (now the Sustainable Business Network).
Being Executive Director of the NZ Business Council for Sustainable Development (now the Sustainable Business Council)
Representing New Zealand business at the United Nations World Summit on Sustainable Development in 2002
Co-creating the NZ Centre for Business Ethics and Sustainable Development and the NZ Business Ethics awards
Serving on the Nominating Committee for the New Zealand Superannuation Fund
Being a director of Oxfam (NZ)
Being a Founding Director of Transparency International (NZ)
Being a Member of the Technical Working Group for the Sustainable Finance Forum
"Rodger is the real father of ethical investing in New Zealand."
– NewstalkZB, Smart Money, 3 October, 2021
"The country's foremost expert on green and responsible investing."
– Stuff, 17 September, 2018
Rodger was "almost a lone voice" in the early leadership of ethical investment in New Zealand.
– Sunday Star Times, 18 September, 2016
Rodger's vast knowledge of conventional and ethical investment is rooted in a life-long love of learning, and a rich history of academic success. His academic credentials include a:
Bachelor of Commerce (1983), earning the Senior Prize in Accountancy for research on accounting for business social responsibility
Management Diploma and postgraduate papers in Training and Development, Organisational Behaviour and Communication
Master of Commerce degree (1990) (First Class Honours), including an internationally-presented thesis focusing on ethical investment
Doctorate (1999) with a dissertation researching philosophy including virtue ethics, ethical investment and the development of responsible business leadership internationally and locally.
Rodger's PhD research was published and presented at international academic conferences. He continues to research and write, and is regularly cited in academic and industry publications.
In addition to his excellent academic credentials, Rodger has a wealth of investment industry experience:
1988 - Rodger joined the Australasian investment managed funds and investment strategy research firm, IPAC Securities. As Executive Director for IPAC (NZ) he led the successful development of this business in New Zealand.
1989 - Rodger was on the Board of one of New Zealand's largest personal investment and financial planning firms.
1990 - Rodger started his own investment advisory firm, Money Matters (NZ) Limited.
1997 - The New Zealand Institute of Management awarded Rodger its Small Business Manager of the Year Award.
1999 - Rodger won the inaugural Good Returns New Zealand Financial Planner of the Year Award.
His experience also includes...
Serving as a Director and Chairman of the Association of Investment Advisers and Financial Planners (IAFP), the national professional association of advisers.
Being selected by the IAFP to prepare the original industry training syllabus and examination in 1988.
Being a member of the International Certified Financial Planner (CFP) Council and its Education and Public Awareness Committees.
Working with the International CFP Standards Board to bring the CFP professional certification to NZ.
Representing New Zealand at the World Financial Planning Forum.
Training many of the financial planners now working in New Zealand.
Co-authoring the New Zealand Guide to Financial Planning.
Authoring The Essential Guide to Financial Planning in New Zealand (CCH, 2000)
Contributing four chapters to the Australian book Ethical Investment.
Featuring extensively in the media, including as a financial advisor in the TV One series Money Doctor, on TV One's Breakfast programme and as a columnist.
Being a former Member of the Securities Commission (now the Financial Markets Authority)
Rodger is passionate about helping individuals and organizations to make money and make a difference, and attending and presenting personal and professional leadership development courses and being with his family and friends.
Visit Rodger's website: www.moneymatters.co.nz