Authentic Leadership
Authentic Leadership: Clashes, Convergences and Coalescences
Edited by Donna Ladkin and Chellie Spiller
Published 2013, Edward Elgar Press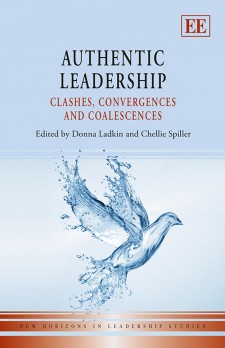 The majority of authentic leadership literature focuses on the individual leader. However, the authors in this volume expertly focus on the premise that leadership is a relational phenomenon and not something that can be distilled down to the actions of one leader, be they authentic or not.
What is authentic leadership? Does it require a leader to express his or her true self even if that true self is less than 'wonderful'? How do followers know the difference between real and fake leaders anyway? What happens when cultural expectations of what constitutes authenticity clash? Can a leader be 'authentic' within virtual contexts? International scholars and practitioners from the fields of philosophy, sociology, psychology, leadership, business and the arts address these and other provocative questions, often with surprising results, in this cutting-edge update of the theory and practice of authentic leadership.

This book updates, critiques and extends the theory of authentic leadership in a way that will prove invaluable for academics and graduate students in leadership studies. Human resource practitioners or individuals who are responsible for leadership development within their organizations will also find plenty of invaluable information in this important book.
Contact Chellie if you would like to know more about the authentic leadership development programme which focuses on how to:
communicate more authentically and effectively
learn from all of their internal 'selves' – not just the good bits
create, experience and harness the power of the authenticity vibe in relationships
find their authentic voice in service to the whole
embrace the paradoxes of living and leading authentically
creatively synthesize opposites
be more response-able not reactive
go from ego to soul
see others more fully.
Click here to receive a copy of the Introduction to authentic leadership chapter.