Indigenous Spiritualities at Work: Transforming the Spirit of Enterprise
Edited by Dr Chellie Spiller and Dr Rachel Wolfgramm.
Published 2015, Information Age Publishing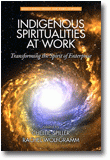 Are you intrigued by ancient wisdom traditions? Do you ever wonder if they have any relevance in today's world? How do Indigenous ways of being and doing balance wealth creation and well-being? How might Indigenous peoples define success? What are Indigenous spiritualities? How is Spiritualities manifested in Indigenous organizations today?
These questions have intrigued us for many years. As a consequence, we invited scholars from around the world to contribute to a ground-breaking book, Indigenous spiritualities at work: transforming the spirit of business enterprise, to explore these questions from different worldviews. A key focus of this book is how Indigenous spiritual approaches revitalize identities and relationships within the workplace. However, the notion of workplace is not narrow, as it includes communities of engagement and practice in ecologies of creativity and enterprise in the broadest sense. This enables Indigenous spiritualties at work to be explored from diverse perspectives, disciplines, cultures and sectors. In particular, the authentic voices of authors in this book enriches our understandings, offers points of enlightenment and amplifies spiritual traditions of Indigenous peoples in a way that honours traditions of the past, present and future.
The contributions build bridges between scholarly work and practice. They include empirical studies of Spiritualities, mindfulness, presence and authenticity. A diverse range of research methodologies, impact studies and examples of development programs are offered alongside artistic works, photographic essays, stories, and poetry.

CONTENTS
Series Editor's Introduction. Preface, Chellie Spiller and Rachel Wolfgramm. Acknowledgments.
PART I: WISDOM AND NATIVE PRAXIS.
Thoughts on a World in Which Indigenous Consciousness Is Reality, Rose von Thater Braan-Imai (Tuscarora/Cherokee).
Native American Transplanar Wisdom, Joseph Scott Gladstone.
Taoism: Chinese Cultural DNA and Its Implications for Business Strategy, Xuezhu Bai and Nicholas Morris.
Te Whare Ako: Architecture Speaks to Heart, Mind, and Spirit, Ella Henry.
PART II: BELONGING AND RELATIONALITY.
Shinto, Buddhism, and Confucianism: Japanese Culture and Management Thought and Their Links to the World, Hiroshi Takeda.
Tapu, Mana, Mauri, Hau, Wairua: A Māori Philosophy of Vitalism and Cosmos, Mānuka Hēnare.
The Ayni Principle: An Indigenous Theory of Value Creation, Mariaelena Huambachano.
Belonging in the Cosmos, Jane Riddiford.
African Spiritualities: Insights from the Cradle of Mankind, Rica Viljoen and Loraine I. Laubscher.
PART III: IDENTITIES.
Karma-Makers? Organizations and Indigenous People in India, Edwina Pio.
Caribberre, Doing Business in the 21st Century, Aboriginal Way, Dennis Foley.
An Ethic of Reciprocity: Illuminating the Stó:lō Gift Economy, Dara Kelly and Patrick Kelly.
Spiritual Dynamics in Systems of Evaluation: Māori and Pacific Models for Process and Application, Tania Wolfgramm.
PART IV: TRANSFORMATIONS.
Whare Hape: Transformations, Wikuki Kingi.
Interpreting and Animating the Gods in an Indigenous Ecology of Creativity, Rachel Wolfgramm and Cheryl Rowles Waetford.
The Place that Indian People Talk about, Gregory Cajete.
Arohia Te Rangi O Te Hihiri: Heeding the Melody of Pure and Potent Energy, Amber Nicholson, Chellie Spiller and Mānuka Hēnare.
Integrating Indigenous Spiritualities at Work: Reflections and Future Directions, Chellie Spiller and Rachel Wolfgramm.
About the Contributors.