About Chellie Spiller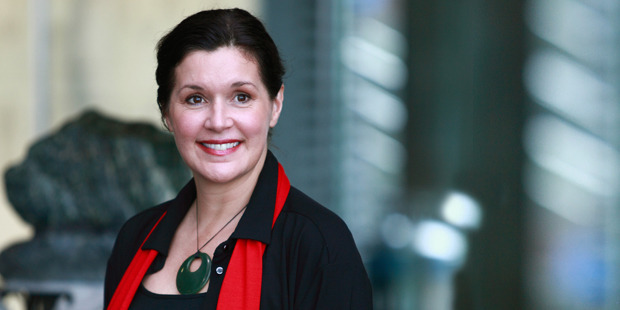 ­Dr Chellie Spiller, (hapū Matawhaiti Iwitea, Ngāti Kahungunu ki Wairoa), is based in Auckland and is a professor at the University of Waikato Management School.
Chellie is a passionate and committed advocate for Māori Business development. Her vision is to create relational wellbeing and wealth across spiritual, environmental, social, cultural and economic dimensions. Creating transformation in people, enabling them to claim their rightful place in the world, and to embody their sense of self.
Chellie's leadership qualities are nourished by her academic achievements. Chellie was a Fulbright Senior Scholar at the Harvard Kennedy School and the University of Arizona. She is a recipient of a Research Excellence Award, Dame Mira Szászy Māori Alumni Award and National Māori Academic Excellence Award. She is passionate about teaching on the postgraduate diploma in business administration (Māori development) where she specialises in management and governance.
She is a co-author of the book Wayfinding Leadership: Ground-breaking Wisdom for Developing Leaders, with Hoturoa Barclay-Kerr and John Panoho, published in 2015 by Huia. 'Wayfinding Leadership' training programmes are growing and are currently being taught in a variety of domains such as Air New Zealand's middle management training programme, Global Women's Breakthrough Leadership course, the judiciary and in the health sector. Chellie speaks locally and internationally on Wayfinding Leadership, authentic leadership, governance, leadership and decision-making, and how businesses can create sustainable wealth and wellbeing.
In 2013 her co-edited book with Donna Ladkin, Reflections on Authentic Leadership: Concepts, Coalescences and Clashes, was published by Edward Elgar Press. She is also co-editor of the book Indigenous spiritualties at work: Transforming the spirit of business enterprise with Dr Rachel Wolfgramm published in 2015 by Information Age Publishing.
She has over thirty years of corporate experience in tourism, finance and marketing, holding senior executive positions in New Zealand and abroad, Chellie brings this experience to her leadership within academic work within leadership and management development programmes. She has created and led tour programmes into countries as culturally diverse as Bhutan, North Korea, Myanmar, Indonesia, Vietnam and India.
Key influencers for Chellie include, her grandmother Wikitoria Wairakau Te taite Whare Atkinson along with other Māori elders, including Jane Marsden (Ngā Puhi) and Pereme Porter (Ngā Puhi), who, along with her mother Monica Stockdale, have mentored and guided Chellie to embody the human qualities of humility, generosity, grace, wisdom, humanity, deep faith and service in their leadership.
Her father influenced her from an early age, Tony Stockdale was an explorer of the universe and imparted his love of cosmology and philosophy to Chellie. Her husband Roger Spiller a well-known advocate for responsible investment and business ethics has been a supportive foundation to Chellie's success.
She is an ardent and receptive learner of the karanga and moving through the world in a wairua way. In this fast-paced business world Chellie's transformational leadership vision, kaupapa, is bringing humanity and spirituality back into the workplace, empowering people to create both cultural and economic business success both locally and globally.
Distnctions and Awards
2018 Joined the Editorial Review Board for Academy of Management Perspectives
2018 Guest speaker at Harvard University on "What is a great leader"
2018 Co-Chair Programs for International Leadership Association global conference
2017 Featured in "100 Māori Leaders" for services to community, Te Rau Matatini
2017 Co-awarded major research grant Māori Leadership and Decision-Making (Ngā Pae)
2016 Finalist Māori Book of the Year Awards for Wayfinding Leadership (non-fiction)
2015 Early Career Research Excellence Award, University of Auckland
2014 Fnalist University of San Diego Outstanding Leadership Book Award
2013 Distinguished Visitor Award to bring to NZ Professor Joe Kalt, Ford Foundation Professor of International Political Economy at the John F. Kennedy School of Government, Harvard University
2011 Fulbright Senior Scholar Award, Harvard University and The University of Arizona
2011 Dame Mira Szászy Māori Business Leaders Alumni Award, University of Auckland Business School
2011 Best Reviewer award for the Social Issues in Management (SIM) division of the Academy of Management
2011 Te Amorangi National Māori Academic Excellence Award
2010 Academy of Management Best Paper Proceedings Award
2010 AuSM Best Lecturer Award – Te Ara Poutama, AUT University
2010 Leadership New Zealand Scholarship
2009 Te Wheke a Toi Post-Doctoral Fellow Scholarship
2005 Inaugural Paul Kelly Scholar, University of Auckland


Books:
SPILLER, C., KERR, H., & PANOHO, J. (2015) Wayfinding and Leadership: Groundbreaking wisdom for developing leaders. Wellington. Huia Publications.
SPILLER, C., & WOLFGRAMM, R. (Eds.) (2015) Indigenous spiritualties at work: Transforming the spirit of business enterprise. Charlotte, NC. Information Age Publishing. (In Press)
LADKIN, D., & SPILLER, C. (Eds.) (2013) Reflections on Authentic Leadership: Clashes, Convergences and Coalescences. Cheltenham, UK. Edward Elgar Press.
Selected articles and chapters
HENRY, E., NEWTH, J., & SPILLER, C. (2018). Emancipatory Indigenous social innovation: Shifting power through culture and technology. Journal of Management & Organization. 23:6 (2017), pp. 786–802. doi:10.1017/jmo.2017.64
NICHOLSON, A, SPILLER, C & PIO, E (2017). Ambicultural governance: harmonizing Indigenous and Western approaches. Journal of Management Inquiry
LADKIN, D., SPILLER, C., & CRAZE, G. (2016). Authenticity and Individuation: A Jungian Contribution to Theorizing Authentic Leadership. Leadership. doi:10.1177/1742715016681942
SPILLER, C., ERAKOVIC, L., HENARE, M., & PIO, E. (2010). Relational well-being and wealth: Māori businesses and an ethic of care. Journal of Business Ethics, 98(1), 153-169. doi:10.1007/s10551-010-0540-z
SPILLER, C., PIO, E., ERAKOVIC, L., & HENARE, M. (2011). Wise up: Creating organizational wisdom through an ethic of kaitiakitanga. Journal of Business Ethics, 104(2), 223-235. doi:10.1007/s10551-011-0905-y
Waddock, S., McIntosh, M., Pio, E., Spiller, C., & Neale, J. (2016). Intellectual Shamans and Wayfinder Scholars: Academics and System Change. Journal of Corporate Citizenship.
SPILLER, C. (2016,). Calling the island to you: becoming a wayfinding leader. University of Auckland Business Review.
SPILLER, C., & NICHOLSON, A. (2017). Wakatu Incorporation: Balancing Kaitiaki Stewardship and Commerce. In Sage Business Cases. SAGE Publications Ltd. doi:10.4135/9781473999039
SPILLER, C., & STOCKDALE, M. (2013). Managing and leading from a Māori perspective: Bringing new life and energy to organizations. J. Neale (Ed.), Handbook for faith and spirituality in the workplace. New York. Springer Publishing Company.
SPILLER, C. (2012). Wayfinding in Strategy Research. C. Wang (Ed.), West Meets East: Challenges and Opportunities for Research Methodology in Strategy and Management. Bingley, United Kingdom. Emerald Insight.