About Chellie Spiller
­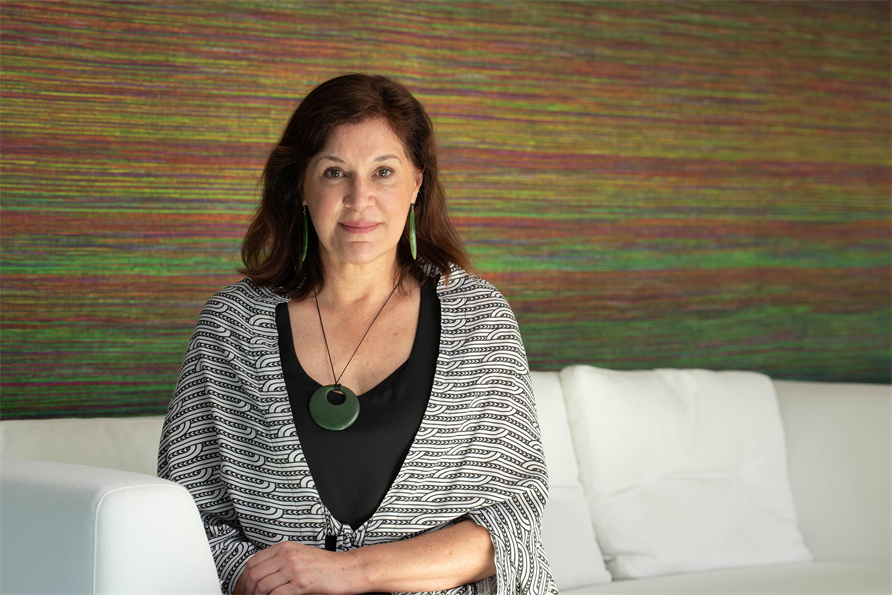 Prof. Chellie Spiller is a professor at the University of Waikato Management School. She has extensive corporate experience in tourism, management and marketing, holding senior executive positions in New Zealand and abroad, and brings this experience to her academic work and leadership and management development programmes. Her research explores wayfinding, authentic leadership and how businesses can create sustainable wealth and wellbeing. Chellie is a 2022 Leader-in-Residence, Atlantic Institute, Oxford University and a Fellow, International Leadership Association. She was a Fulbright Senior Scholar at the Harvard Kennedy School and the University of Arizona, a recipient of a Research Excellence Award, Dame Mira Szászy Māori Alumni Award, National Māori and Academic Excellence Award.
Chellie is a co-author of a book on traditional Polynesian navigation Wayfinding Leadership: Groundbreaking Wisdom for Developing Leaders (2015) with Hoturoa Barclay-Kerr and John Panoho. Wayfinding Leadership, now in its third print run, is a best-selling book for Huia Publishing. It was shortlisted for the Māori Book of the Year awards, 2016. Wayfinding Leadership is included in the list of 150 books by leading Māori authors assembled by the Royal Society of New Zealand to celebrate 150 years of Māori non-fiction publications. Wayfinding Leadership has catalysed a new approach to leadership development that is growing fast and programmes are currently being taught nationally and internationally.
In 2013 her co-edited book with Donna Ladkin, Reflections on Authentic Leadership: Concepts, Coalescences and Clashes (Edward Elgar Press) was short-listed for an international leadership book award.
Chellie's latest book is Practical Wisdom, Leadership and Culture: Indigenous, Asian and Middle-Eastern Perspectives co-edited with Ali Intezari and Shih-Ying Yang. The stories from contributors around the world are illuminating and inspiring. She is in demand as a facilitator works with a variety of organisations such as Air New Zealand's middle management training, Global Women's Breakthrough Leadership course, SPARK senior leadership and frontline teams, Harvard Kennedy School ASH Centre, the judiciary, the health sector, professional sports teams, District Health Boards and communities.
Distinctions
2021-2022 Atlantic Institute Leader-in-Residence, Rhodes Trust, Oxford University
2021 Research Advisory Group, Coastal People:Southern Skies CoRE
2021 Appointed Fellow, International Leadership Association
2021 Fellow, Dilin Duwa Aboriginal Centre, University of Melbourne
2020 Guest speaker, Harvard Kennedy School on "Next Level Inclusion"
2018 Co-Theme Leader Whai Rawa Māori Economies, Ngā Pae o te Māramatanga centre for Māori research excellence
2018 Editorial Review Board for Academy of Management Perspectives
2018 Guest speaker at Harvard University on "What is a great leader"
2018 Tedx Talk on 'Wayfinding Leadership'
2018 Co-Chair Programs for International Leadership Association global conference
2017 Featured in '100 Māori Leaders' for services to community, Te Rau Matatini https://100maorileaders.com/dr-chellie-spiller
2016 Finalist Māori Book of the Year Awards for Wayfinding Leadership (non-fiction)
2015 Early Career Research Excellence Award by the University of Auckland
2014 Top ten Leadership Book of the Year finalist; Reflections on Authentic Leadership
2012 Fulbright Senior Scholar Award, Harvard University and The University of Arizona
2012 Dame Mira Szászy Māori Business Leaders Alumni Award
2012 Te Amorangi National Māori Academic Excellence Award
Academy of Management Best Paper Proceedings Award 2010
Inaugural Paul Kelly Scholar, University of Auckland 2005
Areas of Expertise
Leadership
Sustainable HRM
Diversity, Inclusion and Belonging especially 'next level inclusion'
Sustainable Business and Social Enterprise
Wisdom, Spirituality, Wellbeing and Mindfulness in Leadership and Business
Immunity to Change
Social media
LinkedIn: https://nz.linkedin.com/in/chellie-spiller-60186a4