Keynote Speaker and Workshops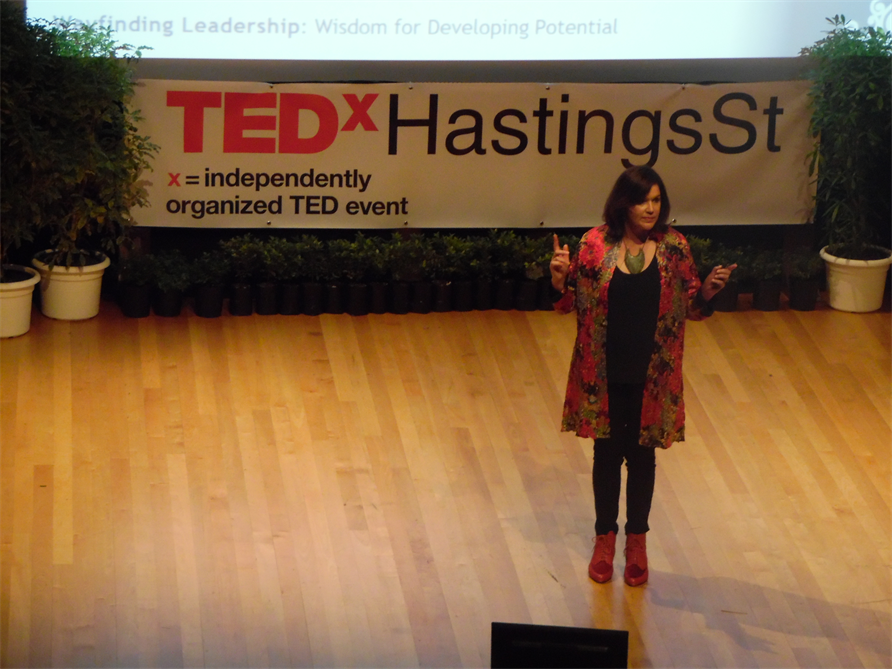 Chellie is a popular and experienced keynote speaker who delivers thoughtful, practical and inspiring tailored to audiences. Drawing on her own extensive repository of case studies and 'real life' experience she has a knack for taking people on a journey into new and unchartered territories to open up new ways of thinking about important issues.
Chellie's search for more insights to how we can develop leaders with a wider, longer and deeper perspective answers has led her to explore leadership lessons from the ways of the wayfinders – the ancient Polynesian navigators who set off to lead the way to new worlds. These wayfinders weren't afraid to journey to new places. They went beyond the known on voyages of discovery to new horizons. It's been an amazing journey for Chellie as she uncovered layer after layer of depth that we can learn from modern Wayfinders along with the ancient wayfinders to help us in business.
Keynotes and interactive, experiential workshops
Wayfinding Leadership: Groundbreaking wisdom for developing leaders keynote often covers the following topics:
What you intend you become
Purpose as that which we are becoming together
Calling the destination to you by reading the signs
The waka is the needle and crafting a dynamic strategy
Linear may not be so direct and the map is not the territory
Living values
Making better decisions
Moving from stillness
Learning by doing
Building more effective teams
Mastering change
Steering with self-knowledge
Harnessing the power of collective will and intention
Navigating paradox
Refreshing paradigms
Diversity and Inclusion
An introductory session on how Māori culture and values can help organisations understand, and be motivated to create, a culture that is genuinely open and embracing of diversity and inclusion. In this session I invite them to consider not just 'adding Māori to the Multi-cultural Mix" as a kind of clip on or check box – but to look at integrating Māori values in a meaningful way.The wisdom contained in Māori values, developed over the aeons in relationship to the world around us help us create relational trust and wellbeing. This is a world of "I belong therefore I am" and creating a culture belonging is at the heart of "diversity and inclusion."
Māori values are system that creates mauri ora in a person, in the group and in the world. This relational wisdom is forged in an intimate, humble and participatory relationship with the world, developed through the generations. These values have stood the test of time – by their very nature, they teach people how to adapt and thrive in a changing world. Values are not singular, abstract ideals that don't relate to each other. Rather, they are an interlocking system that connects values with each other and to context. Each value illuminates a dimension of relationship and can only be truly understood in relation to other values. They are relationship-base values that guide us how to look after each other, our rangatahi youth, our kaumatua/kuia elders, our unborn generations, our environment. They truly embody diversity.
Māori values emphasise practice, and often have the suffix 'tanga' tagged to the end: that makes the word connote action, a process, something that comes into being as it is practiced. They need to be lived. The tanga's that are focused on are:
Rangatiratanga - we are all rangatira in our own way, job of leaders is to weave people together into a unified whole
Manaakitanga – more than just 'hospitality' but to care, give respect, be generous and raise the mana of others through acts of generosity
Humarietanga - humility, one of the most powerful leadership qualities in Te Ao Maori. He kumara. Your acts will speak for themselves.
Whanaungatanga – community, Not a magic glue that just happens, but is an active building of community and connecteneddness at work
Kaitiakitanga – look after our environment, recicprocity, our wellbeing depends on a health environment – kindship with all of creation
Wairuatanga –The centrality of the spiritual domain in any endeavour in Māori life reflects a fundamental commitment to nurture a spiritually-centred outlook that emphasises the inter-relatedness of all aspects of creation. In the workplace this means attending to the spirit of the place, its energy (i.e. its mauri)
Kotahitanga – not just arrows pointing in same direction but a binding together in spirit of unity. A sense of togetherness. True unity in diversity.
We work with a team of experts who take participants through an experiential workshops that brings these 'tangas' to life. Each team undergoes an experiential learning aspect of Māori culture. Each group will be tasked with presenting back to the others what they learned about Māori culture and values, and what can be taken forward into their organisation to create the kind of business they want to create. The participants to reflect and talk about how the tangas have come to life and how they might be included at work. After the time with the experts the participants return to the main room and give a performance about what the learned. Works best with around 60-80 people.
Following is a selection of keynote talks, and workshops, Chellie has given around the world:
One of the many highlights has been delivering Wayfinding Leadership for Air New Zealand as part of an ongoing programme 'Mahi Rangatira' leadership development programme for 450 Middle Managers and the CEO and Senior Leadership Team over the past 18 months.
2018 Jan: Whakaue Research, Whanganui (topic: wayfinding leadership/role: keynote)Jan: University of Auckland Campus Life (topic: wayfinding leadership/role: keynote)Feb: Roundtable Panelist for Global Women (topic: Women in leadership)Feb: Moderator for Global Women Roundtable (topic: strategies for diversity and inclusion)Feb: Not for Profit Association annual conference (topic: wayfinding leadership/role: keynote)Feb: Ngā Pae o te Māramatanga Principal Investigator's wānanga (topic: leadership & decision-making/role: presenter)Mar: University of Auckland Academic Leaders (topic: Wayfinding Leadership/role: keynote)Mar: BDO/Te Puni Kōkiri series of 4 workshops in Northland (topic: Wayfinding Leadership/role: facilitator)Mar: University of Auckland Law School (topic: Wayfinding Leadership: facilitator)May: University of Auckland ASPIRE conference (topic: diversity and inclusion/ role: facilitator)May: Harvard University (topic: Wayfinding Leadership/role: presenter)Jun: Te Puni Kōkiri series of four workshops in Northland (topic: Wayfinding Leadership + tourism/role: facilitator)Jun: Te Puni Kōkiri staff training Wellington (topic: Wayfinding Leadership/role: facilitator)Jun: Te Puni Kōkiri staff training Whāngarei (topic: Wayfinding Leadership/role: facilitator)Jun: University of Waikato (topic: Wayfinding Leadership + tourism/role: presenter)Jun: Northern District Court Judges triennial conference (topic: Wayfinding Leadership/role: keynote/facilitator)Jul: TEDx HastingsStreet (topic: Wayfinding Leadership/role: presenter)Aug: Te Puni Kōkiri staff training Wellington (topic: Wayfinding Leadership/role: facilitator)Aug: Global Women's Breakthrough Leadership programme: 4 day Cultural Module (topic: Wayfinding Leadership, culture, diversity & inclusion/role: facilitator)Sep: University of Auckland Law School (topic: diversity & inclusion/role: facilitator)Sep: University of Oregon (topic: Wayfinding Leadership/role: facilitator)Oct: BDO/Te Puni Kōkiri Governance and Cultural MatchOct: Northpine (topic: Wayfinding Leadership/role: facilitator)Nov: Hiakai CEO leadership development (topic: Wayfinding Leadership/role: facilitator)Nov: University of Otago (topic: Wayfinding Leadership/role: facilitator)Dec: Northern Mystics netball (topic: Wayfinding Leadership/role: facilitator)Dec: CCS Disability national leadership conference (topic: Wayfinding Leadership/role: facilitator)
2017
Feb: Ngā Pae o te Māramatanga (topic: leadership & decision-making/role: presenter)
Mar: Regional District Court Judges conference (topic: wayfinding leadership (WFL)/role: keynote, facilitator)
Mar: Leadership NZ (topic: integrative leadership/role: guest speaker)
May: Te Rau Matatini Maori Health Leadership Summit (topic: WFL/role: keynote)
May: Professional Staff programme (UoA) (topic: WFL/role: keynote)
Jun: Wellington Regional Primary Principals' Association (topic: WFL/role: keynote)
Jul: Taiwhenua training day, Hawkes Bay (topic: WFL/role: keynote)
Jul: Te Putahitanga conference, Nga Hau e Wha marae, Christchurch (topic: WFL/role: keynote)
Aug: European Group of Organisation Studies, Copenhagen (topic: mihi in leadership development/role: presenter)
Aug: Skip Garden workshop, London (topic: WFL/role: workshop facilitator)
Sep: Science and Non Duality Conference, Italy (topic: WFL/role; presenter)
Sep: Global Women's Breakthrough Leadership programme: 4 day Cultural Module (topic: Wayfinding Leadership, culture, diversity & inclusion/role: facilitator)
Oct: Fairfax senior leadership conference (topic: diversity & inclusion/role: presenter, organiser, facilitator)
Oct: Waitemata DHB # 1 (topic: WFL/role: facilitator/organiser)
Dec: Professional Staff (UoA) (topic: WFL/role: keynote)
Dec: Asia Pacific Deans of Business Schools (topic: WFL/role: keynote)
Dec: Waitemata DHB # 2 (topic: WFL/role: facilitator/organiser)
Selected highlights prior 2017
Leadership New Zealand 'Dinner with a Difference' speaker 2016
Presenter at National Maori Accountants Conference, Nga Kaitatau Maori O Aotearoa on Building Better Business Leadership Capabilities 2016
Guest speaker for 'Global Immersion' MBA visiting students led by Professor Jenny Darroch, Drucker School of Management 2016
Panelist for Business and Professional Women's regional conference. Plenary discussant 2016
Wayfinding Leadership: Navigating paradox: Insights from Oceanic wayfinding, Vancouver, Canada, August 2015
Wayfinding Researcher: Wisdom for Developing Research Potential, Auckland, NZ, July 2015
Building better business leadership capabilities: The Way of the Wayfinder – Finding Our Way to a More Sustainable Future, Maori Business Innovation & Strategy Forum, Auckland, NZ, November 2015
Wayfinding: The Journey to True Wealth, Sydney, Australia, June 2014
New Zealand Playcentre Federation keynote, Auckland, NZ, May 2015
Value-Chain Innovation, St Mary's University, visiting MBA, Auckland, NZ, 2015, 2014
Authentic Leadership, International Leadership Forum, live webinar, 2014
Māori business at Common Roots, Common Futures, University of Arizona, USA, February 2012
Authentic and sustainable business, public lecture, Portland, USA, 2012
Sustainability and Indigenous Business, Sherbrook University, Montreal, Canada, 2010